While declining somewhat from 2016, market activity in 2017 remained strong with the number of transactions exceeding our previous ten-year average. The sales transactions in 2016 resulted in many of the more desirable, competitively priced properties clearing the market. As a result, the supply of quality properties was somewhat limited, with many 2017 transactions involving properties never exposed to the open market. Even though interest rates remained low, cash remained king as individuals and institutions continued to add real estate to their portfolios.
Thanks to existing and new clients, Hall and Hall saw good growth in all our business segments in 2017. The addition of new real estate partners continued our expansion broadening our geographic presence. Our auction services had continued success providing alternative marketing opportunities to sellers with a broad spectrum of properties. Our management and appraisal departments continued to grow, providing assistance and consultation to landowners across the country. Historically low interest rates and lenders eager to add new business resulted in exponential growth in our loan business.
Market activity
Many established producers took a cautionary approach putting expansion plans on hold through 2017. Conversely, high-income individuals and institutional buyers were generally more active as they looked to real estate to further diversify their portfolios.
While roughly fifteen-percent below 2016, Hall and Hall market activity exceeded our previous ten-year average by sixty-five percent (Figure 1). Dry smoky conditions in much of the west hampered sales activity in the late summer months. However, demand for quality properties having a combination of good production and recreational amenities was generally strong.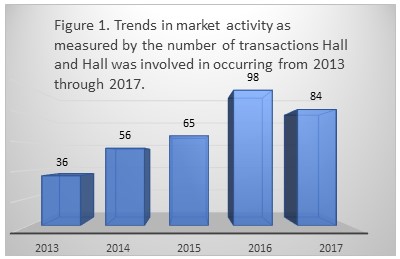 With 2016 seeing a spike in the number of deeded acres trading, the acreage sold in 2017 normalized and aligned more with historic numbers (Figure 2).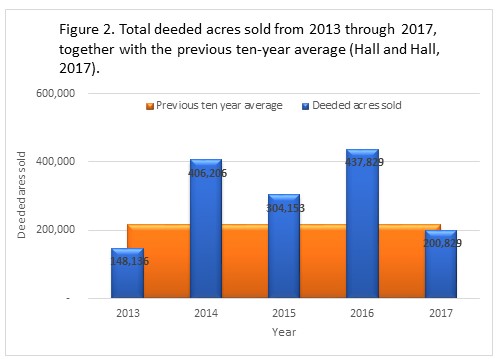 The reduction in the number of transactions and deeded acres outlined above did not significantly impact dollar per acre price. With sales occurring over a broad geographic area, average dollar per acre sales price in 2017 exhibited more variation and had a moderately higher average dollar per acre sales price.
Farmland
Farmland values have remained surprisingly resilient despite persistently low commodity prices. Nationally, average farmland values as reported by the USDA increased moderately in 2017 once again reaching historic highs (Figure 4). It is important to note regional variation in agricultural real estate can be significant. This is the case with the USDA data ranging from an increase of over eight-percent in the Pacific Region and a decrease of nearly two-percent in the Mountain Region.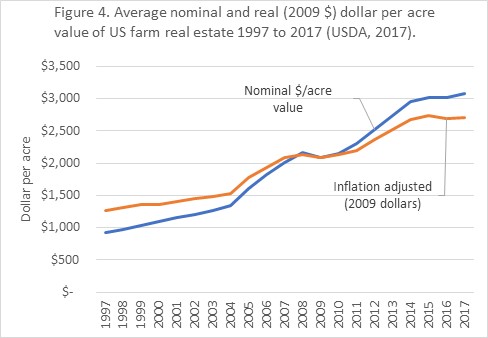 Persistently low interest rates and stable farm incomes in 2017 helped create resilience in farmland values. However, a larger factor is influence of the institutional investor whose presence has steadily increased over the past decade. Once focused in areas like the mid-west and California, the institutional investor has begun to move into areas once thought to be impervious to their influence due to seemingly lower returns.
Ranches
Activity for ranch properties was generally mixed. With herd expansion slowing, demand for ranch properties driven exclusively by production factors softened as producers remained cautious. Investor interest remained strong as they continued to look toward land as a safe-haven investment. Larger ranches, 2,000 acres and greater, made up 30-percent of the market in 2017, down six-percent from 2016. This was likely due to the fact that many of the more desirable larger properties sold in 2016. Regardless of the limited supply, buyers continued to drive hard bargains with successful negotiations hard fought.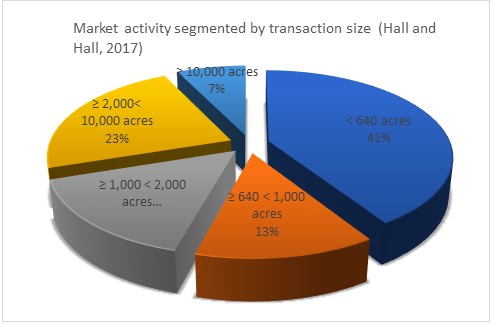 Recreational retreat/sporting properties
With broader economic conditions continuing to improve, demand for recreational properties remained steady to increasing through 2017.  Recreation ranches in accessible locations with quality live water resources and/or premier hunting opportunities remain in demand and continue to draw the most attention from buyers. In some cases, remote properties in unique ecosystems with limited private ownership commanded premiums. Many of these transactions occurred in the range of $5-million or less. The higher priced properties in this category continue to have somewhat limited demand.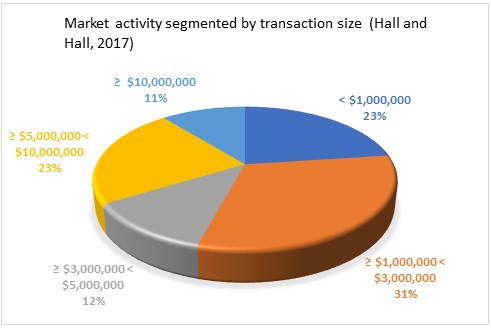 Outlook
Barring unforeseen climatic and/or political shocks, the outlook for commodity markets is forecasted to remain steady in 2018. Like 2017, the Federal Reserve is expected to raise rates again in the coming year. If similar to the 2017 rate increases, actions taken by the Fed will have little impact on the cost of borrowing. The combination of these factors and the anticipation of continued demand from investors points to overall stability in the farmland market.
The cattle herd expansion that began in 2014 is expected to continue in the coming year as feed prices will remain relatively low and beef consumption increases as the economy improves. Demand from established producers is expected to stabilize in 2018. The continued strengthening of the U.S. and the global economy is anticipated. Investors with cash are expected to continue to look to real estate for portfolio diversification.
With steady demand expected, supply of quality properties is likely to be a critical factor in how land markets fare in 2018.
By Mike McDonnell – ARA 
Bozeman, MT 
Hall and Hall